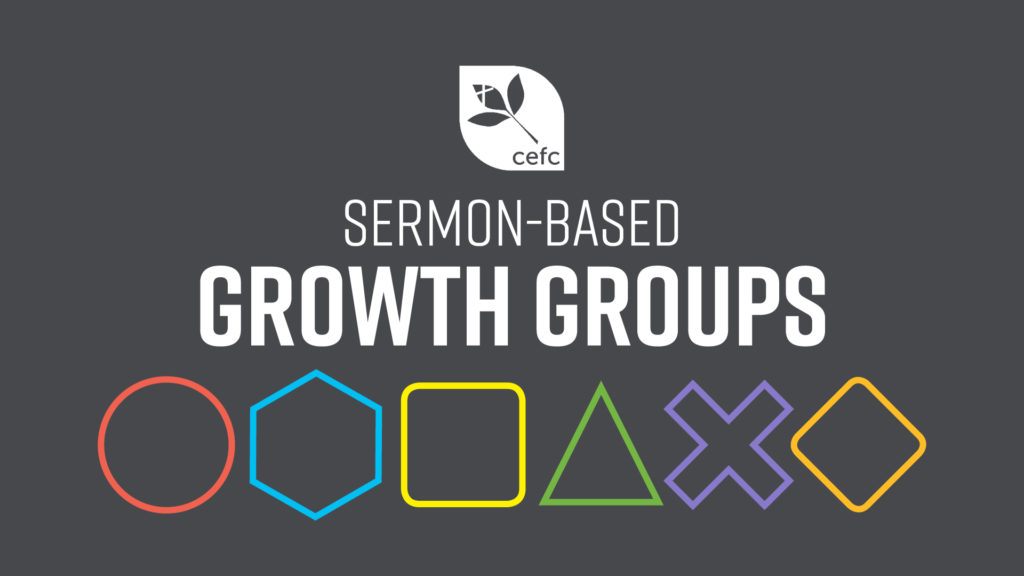 Q: Why does CEFC have Sermon-Based Growth Groups?
A: Everything in life revolves around relationships. The most important relationship is a personal relationship with our heavenly Father through His Son Jesus Christ — a vertical relationship. In seeking to remain consistent as Christians, we must understand that horizontal relationships are what bring balance in this life. And the best horizontal relationships are covenant commitments to live with others, to become connected with others in a basic Christian community. (1 Thess. 2:7-8; Heb. 3:12-13)
Q: Where will CEFC hold Sermon-Based Growth Groups?
A: Each Sermon-Based Growth Group will determine its own venue and time during the week.
Q: How long will CEFC Sermon-Based Growth Groups last and how often do they meet?
A: Approximately 90-120 minutes. They can meet any day/any time of the week as long as it is before the next Sunday. This is decided by each group.
Q: What will the format be?
A: Each group will have four primary sections — Refreshments, Sharing, Study, and Prayer.
Q: Who leads each Sermon-Based Growth Group?
A: Each Sermon-Based Growth Group will have assigned discussion facilitators/hosts.
Q: How many people are in each Sermon-Based Growth Group?
A: Typically and ideally, 12 is the number that allows for the best overall success of the Growth Group but up to 14 and as few as 10 is workable.
Q: How often/long do Sermon-Based Growth Groups run?
A: Sermon-Based Growth Groups at CEFC will begin around the middle of September and carry through until Memorial Day. There will be a mid-season break during December for several weeks. There will be no scheduled Sermon-Based Growth Groups during the summer months.
Q: Can I switch to a different Sermon-Based Growth Group?
A: Everyone is asked to remain within their initial Sermon-Based Growth Group (if at all possible) up until the mid-season break before trying a different Sermon-Based Growth Group.
Q: Do I have to join a Sermon-Based Growth Group?
A: No, you do not. However, along with one-on-one discipleship, Sermon-Based Growth Groups will be a primary ministry of the CEFC family, involving most of those who currently attend. Every effort will be made to get the CEFC family plugged in and all are strongly encouraged to participate.
Q: What does "Sermon-Based" mean?
A: It refers to the topic of study. In order to provide consistency and create unity within the teaching of the Sermon-Based Growth Groups ministry, each week, the topic of study and all discussion questions, will come directly from that week's sermon. The questions are provided directly in the bulletin at Sunday morning's service. By doing so, all Sermon-Based Growth Group participants are studying the same Scriptural section at the same time, allowing for a "layering effect" of learning as one local family of God.
Q: What if I am unable to attend my Sermon-Based Growth Group during the week?
A: Please contact the leaders of your Sermon-Based Growth Group if you are unable to attend so they can prepare for fewer people and ensure prayer on your behalf since each participant is valued by the entire Growth Group.
Q: Do I need to be a member of CEFC to participate in Sermon-Based Growth Groups?
A: No, membership is NOT required but is strongly encouraged.